Delicious & Convenient Recipes
Dinnertime is Mina Time™. Looking for Inspiration?
Find the perfect recipe for any occasion
Slow Cooked Butter Chicken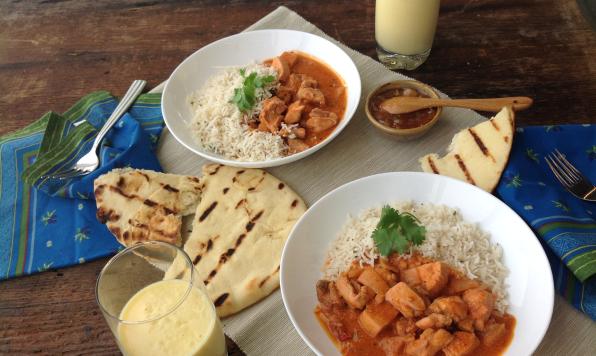 Prep Time:

25

Total Time:

55

Servings:

4
Prepare this and place in the slow cooker and away you go. Come home to the fragrant and exotic smells of ginger, coconut milk and curry chicken. Serve with basmati rice and naan bread for an authentic feel. Don't forget the chutney!
Ingredients
2 tbsp (30 mL) Butter or ghee
1 tbsp (15 mL) Olive or vegetable oil
1 Package (8 pieces) Mina Halal Boneless Skinless Chicken Breast, cut into 2" (5 cm)
1 Onion, chopped
3 Cloves garlic, minced
1 tbsp (15 mL) Freshly grated ginger
1 tbsp (15 mL) Tandoori paste
1/2 tsp (2 mL) Cayenne
1 tsp (5 mL) Garam masala curry powder
1 tsp (5 mL) Fenugreek leaves (optional)
2 tbsp (30 mL) Tomato paste
3/4 cup (175 mL) Tomato sauce or tomato puree
1 cup (250 mL) Coconut milk
1/2 cup (125 mL) Plain yogurt Salt to taste
1/4 cup (60 mL) Cilantro leaves
DIRECTIONS
HEAT butter and oil in a large shallow pot or Dutch oven over medium. Add chicken, onion, garlic and ginger and cook for 6-8 minutes or until the onion is soft. Stir in all of the remaining ingredients except cilantro. Cook for 5-6 minutes or until the mixture begins to simmer. Transfer to a slow cooker and cook on low for 6-8 hours or on high for 3-4 hours. The curry is cooked when the chicken is very tender and the internal temperature has reached a minimum of 165°F (74°C).

Alternately, allow chicken curry to cook on the stove in the original pot, covered for 30 minutes. The chicken should be very tender and the internal temperature should be 165°F (74°C).