Delicious & Convenient Recipes
Dinnertime is Mina Time™. Looking for Inspiration?
Find the perfect recipe for any occasion
Easy Tandoori Chicken Drum Biryani Style Rice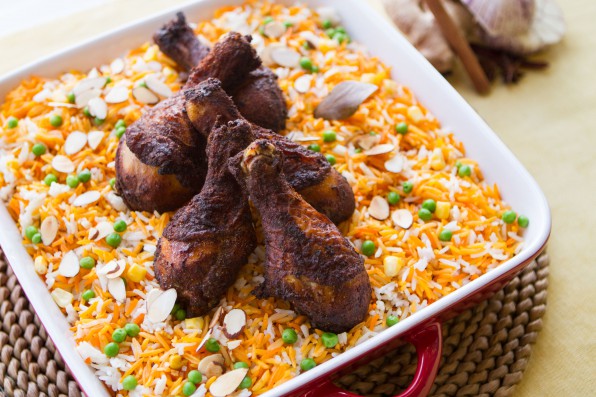 Prep Time:

10 min

Total Time:

35 min

Servings:

2 to 3
Fragrant and delicious, this rice dish is packed with flavour. Super simple for a weeknight meal.
Ingredients
1 pkg Mina Halal® Tandoori Chicken Drums

2 pkg instant basmati rice

2 tbsp (30 mL) ghee or canola oil

1 large onion, diced

1 tbsp (15 mL) garlic, minced

½ cup (125 mL) chicken stock

4 green chili, deseeded and chopped

1 cup (250 mL) frozen peas, thawed

½ cup (125 mL) frozen corn, thawed

1 tsp (5 mL) cinnamon

2 cardamom pods

1 tbsp (15 mL) ginger, minced

1 ½ tsp (7.5 mL) cumin seeds

1 tsp (5 mL) turmeric

1 large bayleaf

½ tsp (2.5 mL) saffron ( optional )

¼ cup (125 mL) sliced almonds, toasted

1 tbsp (15 mL) cilantro, chopped

Salt

Pepper

1 lemon or lime, cut into wedges
DIRECTIONS
PREHEAT oven to 400 degrees.

PLACE chicken legs on a parchment lined baking sheet.

BAKE for about 25 minutes or until an internal temperature of 165 degrees is reached.

MEANWHILE cook rice per package directions.

HEAT ghee in a large skillet over medium high heat.

COOK onion for 3 to 4 minutes or until starting to soften and become fragrant.

ADD chili, cinnamon, cardamom, cumin, turmeric and bay leaf.

STIR often for about 1 minute.

ADD ginger and garlic and stir 1 minute more.

ADD prepared rice to skillet.

STIR well to combine.

ADD in peas and corn and saffron if using.

ADD chicken stock and stir well to combine.

SEASON with salt and pepper.

ALLOW to sit on gentle heat for about 4 to 5 minutes.

REMOVE rice onto platter and arrange chicken over top.

REMOVE bay leaf. Garnish with almonds and cilantro.

SERVE with citrus wedges.

Tip:

SERVE with lightly fried naan bread and raita.