Delicious & Convenient Recipes
Dinnertime is Mina Time™. Looking for Inspiration?
Find the perfect recipe for any occasion
Chicken Tikka Salad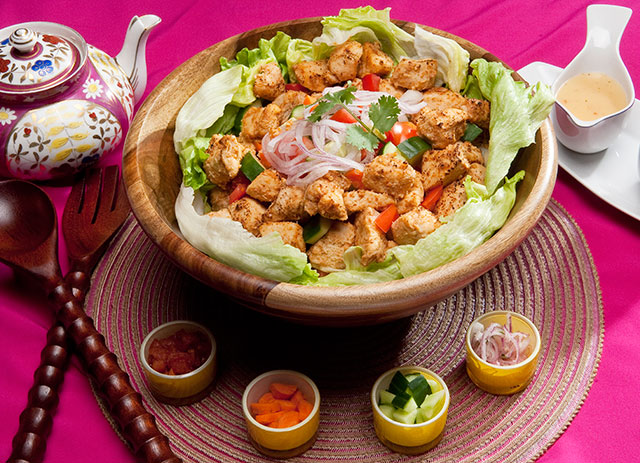 Prep Time:

20 min (not including marinating time)

Total Time:

35 min (not including marinating time)

Servings:

4
This recipe combines South Asian flavours and refreshing salad into a satisfying meal.
Ingredients
SALAD:

3 Mina™ Boneless Skinless Chicken Breasts, cut into bite-size pieces
1 tbsp (15 mL) Tikka masala
1 tbsp (15 mL) Garlic paste
2 tbsp (30 mL) Lemon juice
2 tbsp (30 mL) Vegetable oil
1 Head iceberg lettuce, torn
1 Red onion, sliced
1 Cucumber, seeded and chopped
2 Tomatoes diced
2 Carrots, diced

DRESSING:

3 Cloves garlic, minced
1 tbsp (15 mL) Soy sauce
3 tbsp (45 mL) Lemon juice
½ tsp (2 mL) Ground black pepper
¼ cup (60 mL) Olive oil
DIRECTIONS
PLACE chicken in a large re-sealable plastic bag. Mix together tikka masala, garlic paste and lemon juice. Add mixture to chicken and massage to coat. Refrigerate for at least 2 hours.

HEAT oil in a sauté pan over medium-high. Add chicken and cook, stirring occasionally for 9-10 minutes or until evenly browned and the internal temperature reaches 165˚F (74˚C). Set aside to cool.

ARRANGE lettuce in the bottom of a large salad bowl or platter. Top with cooked chicken and remaining vegetables.

WHISK together all ingredients for the dressing. Drizzle over salad and serve.