Delicious & Convenient Recipes
Dinnertime is Mina Time™. Looking for Inspiration?
Find the perfect recipe for any occasion
Chicken Tikka Pizza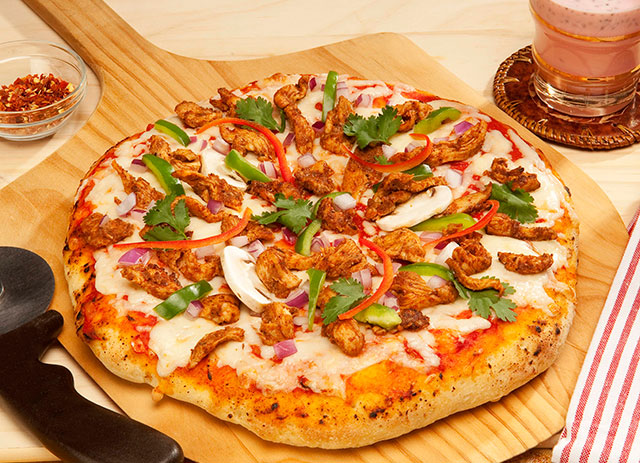 Prep Time:

20 min (not including marinating time)

Total Time:

40 min (not including marinating time)

Servings:

4
A fool proof recipe that's great for the whole family.
Ingredients
1 tbsp (15 mL) Tikka masala
2 tsp (10 mL) Ginger garlic paste
2 tbsp (30 mL) White vinegar
½ cup (125 mL) Plain yogurt
2 Mina™ Boneless Skinless Chicken Breasts, cut into bite-size pieces
2 tbsp (30 mL) Vegetable oil
1 Ready prepared pizza dough
¾ cup (175 mL) Pizza sauce
½ cup (125 mL) Grated Mozzarella cheese
½ cup (125 mL) Grated Cheddar cheese
½ Red pepper, sliced
1 Tomato, sliced
½ Small red onion, diced
½ cup (125 mL) Sliced mushrooms
Cilantro (coriander leaves)
DIRECTIONS
COMBINE tikka masala, ginger garlic paste, vinegar, yogurt and chicken. Cover and refrigerate for 2-3 hours.

HEAT oil in a skillet over medium high heat. Add chicken and cook 8-10 minutes or until golden brown and the internal temperature reaches 165˚F (74˚C). Set aside.

PREHEAT oven to 400˚F (200˚C).

ROLL out pizza dough on a lightly floured surface to about ¾" (2 cm) thick and place on a pizza pan or baking sheet lined with parchment paper. Spread pizza sauce evenly over the dough. Top with half the cheese and all peppers, tomatoes, red onion, mushrooms and chicken. Sprinkle with remaining cheese and bake in preheated oven for 15-20 minutes or until the crust is golden and the cheese is bubbly. Garnish with cilantro and serve.