Delicious & Convenient Recipes
Dinnertime is Mina Time™. Looking for Inspiration?
Find the perfect recipe for any occasion
Chicken Shawarma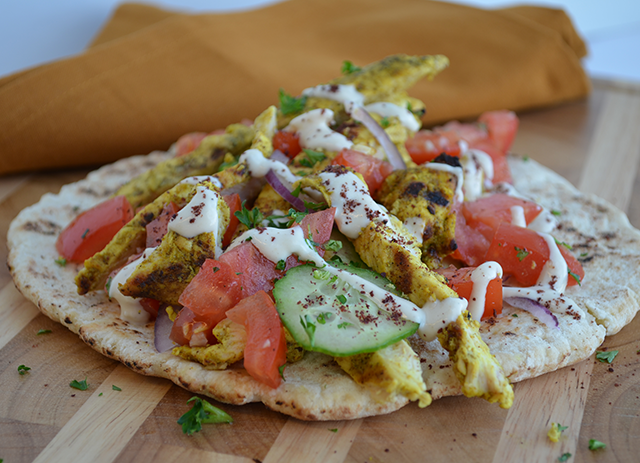 Prep Time:

20 min (not including marinating time)

Total Time:

35 min (not including marinating time)

Servings:

8
Variations of this typical street food can be found all over the world including Syria, Israel, Pakistan and even Mexico. Tender slices of highly seasoned meat and fresh vegetables wrapped in pita bread and served with garlic infused sauce.
Ingredients
CHICKEN SHWARMA:

1 Package Mina™ Boneless Skinless Chicken Breasts
2 Cloves garlic, minced
½ cup (125 mL) Yogurt
2 tbsp (30 mL) Vinegar
2 tbsp (30 mL) Olive oil
2 tsp (10 mL) Cumin
2 tsp (10 mL) Coriander
1 tsp (5 mL) Turmeric
1 tsp (5 mL) Ground cardamom
½ tsp (2 mL) Ground allspice
Pinch cayenne
Salt and pepper
1 tbsp (15 mL) Lemon juice
8 Pita breads
½ Cucumber, thinly sliced
1 Tomato, diced
½ Small red onion, thinly sliced
Chopped fresh parsley
Sumac powder (optional)

TAHINI SAUCE:

½ cup (125 mL) Tahini
2 Cloves garlic, minced
3 tbsp (45 mL) Yogurt
1 tsp (5 mL) Honey
2 tbsp (30 mL) Lemon juice
½ cup (125 mL) Hot water
DIRECTIONS
CHICKEN SHWARMA:

PLACE 1 chicken breast between two pieces of plastic wrap on a clean work surface. Lightly pound chicken, using a meat mallet or the bottom of a heavy pot until flattened to about 1/2 - 3/4 inch (1-2) cm thick. Repeat with each chicken breast. Place chicken into a large re-sealable plastic bag.

WHISK together garlic, yogurt, vinegar, olive oil, spices and lemon juice. Pour over chicken. Seal bag and massage marinade into the chicken. Refrigerate for at least 30 minutes.

PREHEAT BBQ to medium-high. Lightly coat grill with non-stick cooking spray.

REMOVE chicken and discard remaining marinade. Grill chicken for 4-5 minutes per side or until golden brown and the internal temperature has reached 165˚F (74˚C).

WRAP pita bread in foil and place on the grill while chicken is cooking. Turn occasionally.

SLICE chicken into thin ½ inch (1 cm) strips. Divide chicken between pitas and top with cucumber, tomatoes, onions and parsley. Drizzle with tahini sauce, sprinkle with sumac and serve.

TAHINI SAUCE:

WHISK together tahini, garlic, yogurt, honey and lemon juice. Gradually whisk in hot water to achieve a saucy consistency.