Delicious & Convenient Recipes
Dinnertime is Mina Time™. Looking for Inspiration?
Find the perfect recipe for any occasion
Chicken Shawarma Nachos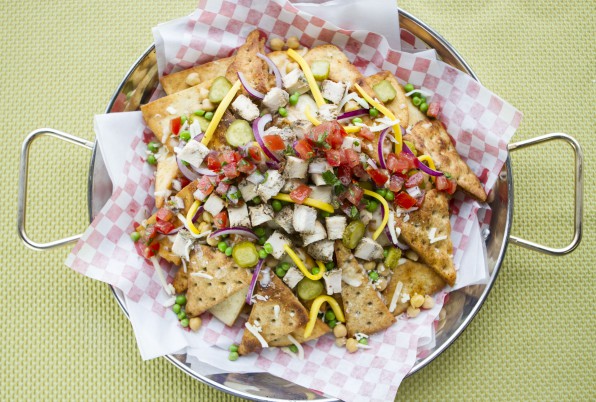 Prep Time:

10 min

Total Time:

20 min

Servings:

4
Have pub night at home with this addictive rendition of nachos.
Ingredients
1 Pkg Mina Halal® Chicken Shawarma

1 tbsp (15 mL) olive oil

6 pita or naan bread

½ cup (125 mL) ghee

1/3 cup (75 mL) frozen peas, thawed

1/3 cup (75 mL) chickpeas, rinsed and drained

1 mango, sliced thin

1 cup (250 mL) mozzarella, shredded

1/3 (75 mL) cup red onion, sliced thin

1 small onion, diced small

1 medium tomato, diced small

1 tbsp (15 mL) lime juice

1 tbsp (15 mL) olive oil

¼ cup (60 mL) cilantro, chopped

1 tbsp (15 mL) chili powder

1 tbsp (15 mL) cumin

Salt

Pepper

¾ cup (175 mL) canola oil

1 egg white

¼ cup (60 mL) lemon juice

Ice water
DIRECTIONS
PREHEAT oven to broil setting.

HEAT oil in a large skillet over medium high heat.

COOK 6 to 7 minutes or until chicken is browned and reaches and internal temperature of 165 degrees.

ALLOW to cool slightly.

DICE chicken and set aside.

IN a small bowl mix together chili powder, cumin and season with salt.

SET aside.

WIPE skillet clean and melt half the ghee.

WORKING in batches over medium high heat fry pita for about 30 seconds on each side until browned and crisp.

REMOVE onto paper towel lined tray.

CUT crispy fried pita into small wedges.

IN a small bowl combine diced onion, tomato, cilantro, lime juice and olive oil.

SEASON with salt and pepper and a dash of cumin. Set aside.

ASSEMBLE nachos by arranging pita crisps onto a parchment lined baking sheet.

SPRINKLE chickpeas, peas, onions, chicken and cheese over top.

BROIL for about 2 minutes or until cheese has melted and nachos are warmed through.

GARNISH with tomato onion salsa and mango. Drizzle with Garlic Sauce.



Garlic Sauce:

USING a food processor or blender on high, puree garlic and 2 tbsp of lemon juice.

SCRAPING down the sides as needed.

ADD egg white and blend until frothy about 45 seconds to a minute.

WHILE blender is running slowly drizzle in oil, mixture will begin to thicken.

SLOWELYadd in remaining lemon juice.

SAUCE should be on the thicker side.

ADD ice water a tsp at a time if needed to thin out slightly.

SEASON with salt.

Tips:

USE and left over garlic sauce as a condiment for chicken, salad or sandwiches.

SAVE any left over chicken for a salad for lunch!